Located in Amherst, NY — 20 Minutes from Niagara Falls
If you are in Buffalo or Niagara Falls, NY area, finding kosher food can be a challenge. Nissan's Kosher Deli can serve your kosher needs.
Nissan's deli is the perfect destination for kosher food for people in the Amherst, Buffalo, or Niagara Falls area. We are the perfect one-stop solution for all your kosher food needs.
We feature an eat-in or take-out glatt kosher deli, kosher groceries, kosher catering and the only kosher butcher in the Buffalo/Niagara area.
Glatt Kosher Deli
Stop by for lunch and have a kosher deli sandwich piled high with your choice of meat.
Have some potato salad, coleslaw, soup, knishes and more!
You can enjoy it in the cafe area or take it with you.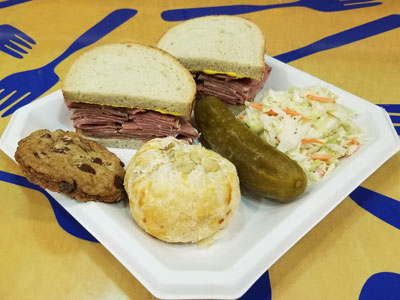 Kosher Groceries
The grocery has a variety of over 2,000 kosher items with everything you need for a mid-week stay or Shabbat meal.
We also offer catering with party platters. We'll deliver it right to your event if you are within 20 miles of our location.
Nissan's kosher deli is conveniently located in Top's Friendly Market across the street from the Boulevard Mall. Parking is never a problem.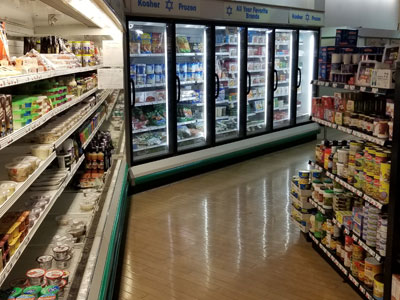 Kosher Catering
Let us prepare your entire shabbos meal for you! We'll provide everything including: fresh made soups, main course and dessert.
Nissan's kosher deli has much to offer for your dining and special occasions. We have a large and varied menu, so there's something for everyone. A great way to start is with our flavorful matzo ball or barley soup. Next, try a great pastrami sandwich with our homemade pickles. Don't forget delicious chickpea salad and herring. Finally, if you happen to have room after your meal, why not end it with some chocolate chip cookies?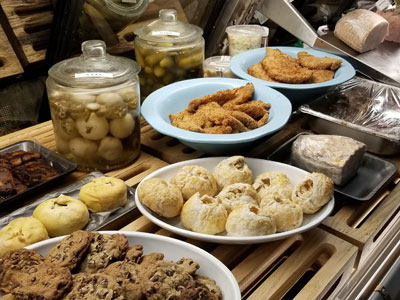 Supervised by Buffalo Va'ad Kashruth
There are very few kosher restaurants in the Buffalo, NY / Niagara Falls area.  Nissan's Kosher Deli fills that need.  We are supervised by the Buffalo Va'ad Kashruth.
The bakery in Tops is also supervised, so you can get kosher baked goods like bread, cakes and doughnuts.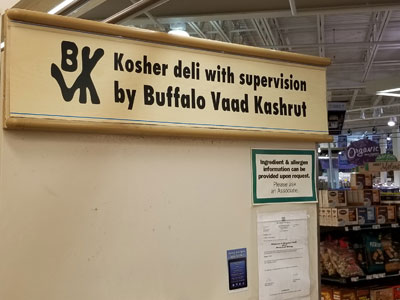 Deli Hours
Monday: Thursday 10-7
Friday: 9-2
Saturday: Closed
Sunday: 9-3
Grocery Hours
Tops is open 24 hours daily. You can come any time to do your kosher grocery shopping.